Home Again: Starting Over, Book 4
Things are heating up in The Sisters, and Maddy is in the hot seat! The house is almost done, she and Brash move forward with their relationship, and another killer is on the loose.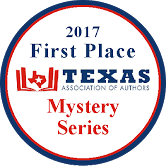 When a local woman dies in a most unconventional way, In a Pinch takes on the quirky case and once again, Maddy finds herself in the middle of a would-be murder investigation. Even with the help of her grandmother and best friend Genny, this case may be too hot to handle.
As summer scorches its way across Texas, drama as thick as the August humidity rolls through the twin towns of Juliet and Naomi. Granny Bert reveals a secret that rocks Maddy's foundation. A celebrity designer joins the renovation crew at the Big House, bringing twice the chaos and twice the fans. Madison's estranged mother-in-law convinces the twins to spend the summer with her in Dallas. As if all of that isn't enough to wreak havoc in Madison's life, Barry Redmond continues to propagate his ridiculous grudge against her.
Things really start smoking when Cutter's grandfather, rodeo legend Sticker Pierce, returns to The Sisters and tries to rekindle a romance with old flame Belle, aka Granny Bert. And Maddy's latest brush with death prompts Brash to finally make his move.
With renovations almost complete and the love of a good man behind her, Maddy is ready to tell the world: I'm home again, and starting over.
Don't miss Book Four in the award-winning The Sisters, Texas Mystery Series.
The Sisters, Texas Mystery Series, In Order
Book 1, Chicken Scratch
Book 2, When the Stars Fall
Book 3, Stipulations & Complications
Book 4 , Home Again: Starting Over
Book 5, Genny's Ballad
Book 6, Christmas in The Sisters
Book 7. The Lilac Code
Book 8, Wildflower Wedding : With a Killer Reception
Book 9, Sitting on A Fortune
Book 10, Rose By Any Other Name
Book 11, Bye, Buy Baby
Book 12, Murder Worth a Thousand Words
Book 13, Superstitions and Apparitions
Book 14, Murder at the Stroke of Midnight
Book 15, Sunshine and Secrets
Book 16, Dollars or Death
Book 17, Weight of The Badge