Stipulations & Complications, Book 3
What Madison needs is another session of Brash deCordova's unique 'river therapy'…
What she gets is another round of stipulations and complications.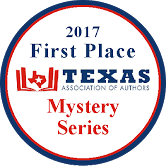 Now that Madison Reynolds has agreed to be part of a reality-television home remodeling show, she barely recognizes her own life. The show is an instant success, bringing cameras and reporters right to her doorstep, eager to chronicle her every move in the small Texas town.
With In a Pinch Temporary Services hovering on the thin line between prosperity and extinction, Madison takes on another quirky case, this one concerning a property dispute. Complications turn a simple mission into all-out danger, and once again Madison finds herself embroiled in an intriguing mystery.
Between her cantankerous grandmother, a moody teenage daughter, an ever-starving son, townspeople eager to grab their fifteen minutes of fame at her expense, and a mother-in-law appalled by her undignified foray into the public eye, Madison had her hands full, long before the skeleton was discovered. Now work is interrupted at the Big House, ghost stories abound, more secret passages have been unearthed, and someone is trying to scare her away from her new home.
What she needs is another session of Brash deCordova's unique 'river therapy'… not to mention the kiss that eludes them with frustrating regularity.
What she gets is another round of stipulations and complications.
Named Best Mystery Series of 2016 & 2017 by the Association of Texas Authors.
The Sisters, Texas Mystery Series, In Order
Book 1, Chicken Scratch
Book 2, When the Stars Fall
Book 3, Stipulations & Complications
Book 4 , Home Again: Starting Over
Book 5, Genny's Ballad
Book 6, Christmas in The Sisters
Book 7. The Lilac Code
Book 8, Wildflower Wedding : With a Killer Reception
Book 9, Sitting on A Fortune
Book 10, Rose By Any Other Name
Book 11, Bye, Buy Baby
Book 12, Murder Worth a Thousand Words
Book 13, Superstitions and Apparitions
Book 14, Murder at the Stroke of Midnight
Book 15, Sunshine and Secrets
Book 16, Dollars or Death
Book 17, Weight of The Badge
"Life comes with stipulations. If you want to fit into last year's swimsuit, you can't eat ice cream and a Gennydoodle cookie after every meal. If you want to go to Heaven, you can't raise Hell on Saturday night and show up in the church pew on Sunday morning, hungover and reeking of cheap perfume. And if you want your hundred-year-old mansion completely updated and remodeled for free, you have to sacrifice. Stipulations, my child."

– Granny Bert Cessna